Are you bored with your mobile phone? Wondering what you can do to add a fun twist to your phone background? No fuss, the Wave Live Wallpapers app can help resurrect your relation with your phone. The app is trusted by tens of thousands of people all over the world who enjoy animated and 3D wallpapers. It is free and battery-friendly; meaning it won't eat up your phone's battery. This is one of the good reasons behind its huge success.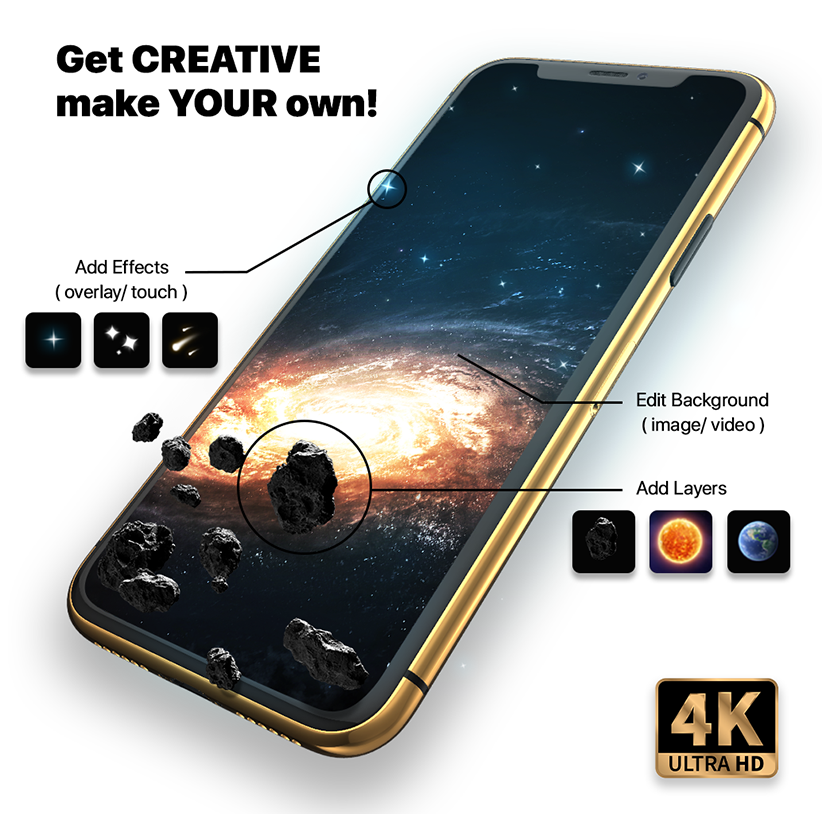 The Wave Live Wallpapers HD & 3D Wallpaper Maker app has a free library filled with many attractive and stunning 3D wallpapers and animated HD backgrounds. Users can pick any wallpaper matching their style without spending a single penny. All of the wallpapers and backgrounds provided by the Wave Live Wallpapers app are of the best quality and meet all the standards to deliver state-of-the-art phone backgrounds. Being battery-friendly doesn't mean you will experience any lagging issues or lack of quality. The best live wallpapers run smoothly and effortlessly.
When it comes to types of live wallpapers available, Wave offers some pretty cool animated backgrounds. Video wallpapers decorate your screen with amazing motion pictures. The real depth effect is created for your screen with parallax 3D & 2D backgrounds, or full 3D interactive wallpapers. Check them out, select from the tags on the main screen and make your smartphone surprisingly cool, just by changing your wallpaper.
Another thing that sets it apart from the crowd is its Live Wallpaper Maker feature that allows you to design and create your own wallpapers and backgrounds that will amaze everyone. You can start by choosing a type of wallpaper you want to create:
Slide Show
Simple Image
3D Photo Wallpaper
Video Wallpaper
Parallax
Boomerang Wallpaper
The whole process is super simple that even a 5th grader can easily comprehend. You don't need to brush up on your editing skills to be able to create your own customized live wallpapers. Just download the app, follow the wallpaper maker's steps, and you're done.
Before you download this app, be sure to look into your device compatibility, as some manufacturers don't allow the customization of lock screen or home screen with 3D live wallpapers and moving backgrounds.
Have something to say about Wave Live Wallpapers HD & 3D Wallpaper Maker? Please feel free to share your valuable feedback via email.